More Bikes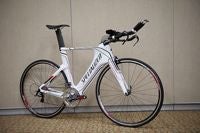 In addition to the S-Works Shiv, Specialized has a complete line of bikes with the identical frame shape, stretching down to the $3,000 Shiv Comp. This version comes with a mix of entry-level components and the aluminum version of Specialized's new aerobar design. This bar has the same range of fit adjustment as the carbon version, but has a slightly different basebar shape. Specialized is also offering mid priced versions with higher-level spec kits. The S-Works frame will be offered both as a complete bike and as a module, which includes the frame, brakes, Fuelselage, aerobars, crank and chainrings. The S-Works versions will be ready to go in October and the other models will come in the following months.
Written by Aaron Hersh. Follow him @triathletetech.
All photos by Nils Nilsen. Follow him @triathletephoto.