Hydration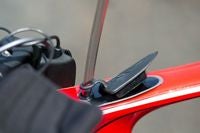 The Shiv has a Camelbak-style bladder hidden in the headtube and downtube called the Fuelselage. The bladder slides into the frame through the top tube directly behind the stem. It's sealed with a rubber stopper that can be removed to refill the bladder on the go. The hose pops out of the frame out behind the stem and lays onto the aerobar extensions. Specialized cleverly placed a magnet in the valve and a matching magnet in a strap that can be positioned anywhere on the bike to hold the hose and it from flopping around. Two valves are available, one is a bite valve and the second is an upturned opening without any seal. The bladder holds a little more than 20 ounces of fluid, depending on frame size, and can be removed from the bike to be cleaned.
Mark Cote declares "making sure all the things a triathlete needs has a home on the bike" was one of the design team's biggest goals when planning the 2012 Shiv. In addition to the Fuelselage, the Shiv has a seat tube water bottle boss to hold standard bottle cage. Cote says a water bottle on the downtube has a substantial aerodynamic penalty but a bottle on the seat tube has a miniscule impact, so he decided to include only this single mount.
Rasmus Henning has a one-of-a-kind storage pod that sits between the aerobar extensions and mounts his Garmin computer head unit. Although these aren't yet available to the public, it sounds like Specialized is considering a similar storage option for non-fluid nutrition needs. The saddle can, of course, accommodate a behind-the-saddle hydration system.