Fit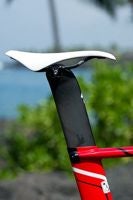 The most important changes to the new Shiv are frame geometry and fit adjustability. The 2011 Shiv might have been an aerodynamic success, but it created fit problems for many triathletes. It could only accommodate a single aerobar, the headtube didn't lengthen as the bike got larger and the basebar could not be raised. As Specialized engineer Luc Callahan put it, "The Shiv was positioned really aggressively, and honestly it didn't work for everybody."
Instead of designing the frame geometry for ProTour cyclists that race short time trials, the new Shiv's geometry designed specifically for triathletes. All five sizes have a relatively tall stack height compared to the reach value and these dimensions scale linearly from the X-Small frame size to the X-Large.
The stack and reach values for the five frame sizes (all with 700c wheels) are:
X-Small: Stack 495mm, reach 365mm
Small: Stack 515mm, reach 385mm
Medium: Stack 540mm, reach 405mm
Large: Stack 565mm, reach 425mm
X-Large: Stack 590mm, reach 445mm
The 2012 Shiv is designed to easily accommodate widely ranging positions without big compromises to aerodynamic performance, stability or stiffness. The previous Shiv relied on spacers to lift the elbow pads, and those spacers have been replaced partly by the taller headtube. In addition to the taller frame designed for positions more commonly ridden by triathletes, it comes with an extremely adjustable aerobar and a traditional steerer tube that can be clamped either to a standard stem or a proprietary aero-shaped stem, allowing the bike to use any aerobar. This aero stem can be positioned directly on top of the head tube or it can be lifted 25mm or 50mm. The stem has two clamp positions that alter its reach. The shorter orientation creates a 60mm stem and the longer position lengthens it to 90mm.
All these changes sum to create a bike that can accommodate a wide range of positions commonly ridden by triathletes.