"It brought me to my knees and made me pay homage to the island."
The Kona course has a way of humbling—no, demolishing—athletes like no other Ironman. The heat, the unforgiving course, the world championship-demanding effort—and did we mention the heat? We spoke with three top pros forced to pull out of last Saturday's race and asked them what ultimately ended their day and dashed their Kona hopes.
TJ Tollakson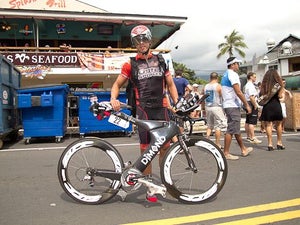 The winner of 2011 Ironman Lake Placid, Tollakson led the bike leg with fellow Americans Chris Lieto and Andy Potts before he dropped out due to severe vomiting on the bike.
The water was choppy all week and Thursday night it rained hard all night. I didn't get into the ocean on Friday because of it. You could tell the water wasn't as clear or clean as in years past. Everything on the front side of the mountain rushes into the bay there. The swim started out just like every other swim in Hawaii, just maybe a little rough. The swim pace was a little slow because it was a bit rough. It changed the dynamic of the race right there. I came out of the water next to Craig Alexander and he was a little bit shocked, and as we were on the steps coming out—Marino Vanhoenacker was on one side of him and I was on the other—he let out an expletive, like 'I can't believe I'm with all these guys here.' The pace on the bike was fast from the get-go. In years past I counted on having a bit of a cushion on someone like Marino. Chris Lieto and I had talked earlier in the week about trying to make the pace hard from the get-go and create some separation, make it clear that the guys who wanted to be right up there on the run were going to have to work for it on the bike.
Andy Potts was having a blast out there riding with us, and it was cool to have three Americans out there at the front of the race. I didn't think it was that hot on the bike or that windy. It wasn't without punishment, though. When you're biking that fast, whether it's hot or cool, people are going to pay for it.
It didn't take me long to start feeling sick from swallowing a little too much salt water. I started vomiting pretty seriously right before Kawaihae. As soon as I turned the corner up to Hawi, that was it for me. It's hard to pinpoint any one thing, I was certainly getting after it on the bike, but I'd anticipated that kind of effort, and I was prepared for it. You just never know how your body is going to react on race day. Maybe if I hadn't swallowed the seawater and gone as hard it wouldn't have happened, you just don't know. I usually drink a Red Bull right before I swim, and I look back now and think I should have gone with water so I would have had something to dilute the saltwater in my stomach as I was taking it in. … I knew I wasn't going to be able to race like I wanted to race. It really brought me to my knees and made me pay homage to the island.
Tim [O'Donnell] and I joked about it—we've had the same emphasis on this race and have the same coach and do a lot of training together—and neither one of us ended up finishing the race. We both felt pretty bad for [coach] Cliff [English]. But it's part of racing. You play the cards you have in your hand. Some days you just have to fold.

PHOTOS: Ironman Hawaii Pro Bike Check-In
Tim O'Donnell
Another top American, O'Donnell led the Kona Point Rankings before the race, his much-anticipated debut on the Big Island.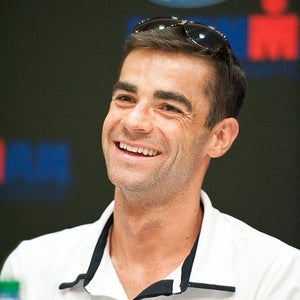 I was running a temperature [the night before the race], and unfortunately I was just feeling under the weather—achy muscles and fatigue. It was just really bad timing. When you're so trashed from training and you get an illness, you sometimes don't realize when you're sick because you're so used to feeling trashed. I really struggled in the water, and I knew I was not in a great place. I came out with the front group and right when I hit the beach felt achy. That first little hill out of Pualani felt like Alp d'huez. I was with the front group yo-yoing off the back, and I attempted to keep a decent base but by the time I got to Kawaihae I was three minutes down, and climbing up to Hawi things started to go downhill fast. There was nothing I could do about it. Maybe 2 hours into the ride my watts were lower than what I usually sit on for my threshold intervals during my training. But the effort felt like a 40K effort. I looked at my power meter after the race and the watts were down on the uphills, whereas they're usually a lot higher on the climbs. I finished the bike course mainly just to get home.
[My coach] Cliff was pretty shattered too. It was frustrating for me: the first time out here you wanna have a good debut. It wasn't me out there. It was not an indicator of where I am, so it was a little frustrating. But still, it was a good learning experience. I learned a lot from the dynamic of the race. I'll change some of my training for the bike—it was like a 112-mile time trial out there. I'll do more above threshold type stuff. You don't really expect that in an Ironman but there's a high level of guys there.
My post-Kona race plans were up in the air, but I think I'm going to do Ironman Arizona. I have so much fitness from the build up to this race, I don't want it to go to waste. And it gets the qualifying for next year out of the way.
RELATED: Breakfast with Bob – Tim O'Donnell
Eneko Llanos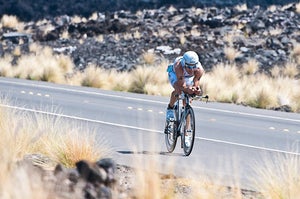 The Spanish pro, who won the inaugural 2011 Memorial Hermann Ironman Texas in May, is always a top contender at any long course triathlon he starts. He remains in Hawaii and will race the Xterra World Championship on Maui next weekend.
I had stomach problems on the bike. I felt bad going up to Hawi and I decided to take it easy and see if I got better, but everything went worse and I couldn't recover. I finished the bike but I had no strength to start the marathon. I had a lot of time lost so I decided to quit. I swallowed a lot of water during the swim and maybe that caused my problems, too.