This story originally appeared in the January/February, 2009 edition of Inside Triathlon magazine.
Written by: Matt Fitzgerald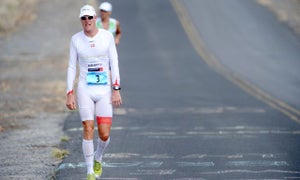 From the outside, swimming, cycling and running appear as movement. But from inside the triathlete's body, swimming, cycling and running appear as an acceleration of time.
Blood gushes through veins and arteries like traffic through night highways in a time-lapse video. Within muscle cells, glucose and triglyceride molecules are tossed into the fiery furnace of mitochondria at a breakneck pace, as though someone has put a DVD of the process at rest on 4x fast forward. Armies of oxygen radicals punch holes in muscle cell membranes, causing a general deterioration that calls to mind those computer animations that show a person aging 20 years in 10 seconds.
Indeed, from an internal perspective, completing an Ironman is a bit like sitting on a sofa for 12 hours and aging two decades. In other words, the changes the body undergoes in 12 hours of extreme exertion are similar to some of those that occur in the body over the course of two decades of non-exertion, as a result of normal aging. Fortunately, though, those years are restored to you within a few weeks. Then it's time to start thinking about tickling the reaper again.
Let's take a more detailed look at how racing an Ironman affects various parts of your anatomy. There's no particular lesson in this exercise, but it may give you a greater appreciation for the accomplishment of crossing an Ironman finish line.