The morning after our trail run, it becomes apparent why Tucson is home to so many Ironman pros (Chris McDonald, Samantha McGlone, Hillary Biscay and Maik Twelsiek to name a few). It's not just the riding, the year-round warmth and the lack of rainfall. Once you're out of the city, this place is as raw and desolate as the lava fields along the Queen K. From their house, Cave and Abel take me on one of their standard Kona training routes—a five-and-a-half-hour ride that goes south from Tucson through a desolate lava-and-shrub-brush landscape, then up to a forest park in the Santa Rita Mountains known as Madera Canyon. It's windy and warm, even on this mid-January afternoon, and our route has few stoplights or cars to interrupt the steady cadence of Cave, who stays in her aerobars, grinding away in a big gear and pulling us for most of the ride.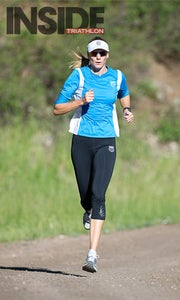 When the weather becomes hellishly hot in the spring and summer, Cave and her husband have set up their training environment to minimize the driving and other hassles that most of us have to contend with. They've outfitted their downstairs bedroom with his-and-her treadmills side by side so they can do their bricks and transition runs off the bike together. Down the street within walking distance is a typically empty 25-yard pool, where they do all of their swimming workouts. And up the street is a resort spa outfitted with an expansive fitness center, where they do their strength and core training.
Because Cave is so naturally lean, strength is one area she pays particular attention to, making sure she maintains her muscle mass for power as well as to prevent injuries, which were prevalent in her ITU career.
"I've had 11 diagnosed stress fractures," she said.
VIDEO: Leanda Cave From 70.3 Worlds In Vegas
She and Abel are also religious about sleep, recovery and post-workout nutrition, which Cave points to as factors that have allowed her to compete at such a high level for so long. Their kitchen cupboards are fully stocked with canisters of Accelerade and Endurox, which Cave blends into fruit smoothies for us after our long ride and run, along with hard-boiled eggs and toast with honey and jam, and tea.
Although she's been racing at a high level for some 15 years, Cave believes that, at 33, she is just now starting to hit her peak years and plans on racing for many more. With the Ironman now becoming more like the ITU and with Wellington setting the bar so high, Cave believes her transition to long-course racing has come at the perfect time.
"Chrissie's been the biggest influence on women's racing," she said. "Everyone knows that to beat her or come close to her, you have to step it up. You have to take on a whole new mind-set. I don't want to take credit away from people who have won in the past, but I don't think they've had that much pressure—they've not had to be that fast."
Now, in the Chrissie Wellington era, Cave says, you have to be a risk taker.
"If you want it, you've got to go for it," she explained. "You can't hold back anymore. I've always been like that. So for me, the Ironman distance is now fun because it's racing. It was just painful before. Now," she added with a laugh, "it's fun and painful."
McDonald is a freelance journalist and kick-ass age grouper. Look for him in Kona and Vegas this year.