Cave's ability to handle heat is unusual for a bigger athlete. But it's a result, she says, of growing up in the hot, humid environment of Cairns, Australia. And although she is in many ways a product of her environment, she reminds people who get the wrong idea from her Aussie accent that she's really a Brit at heart.
"I don't feel Australian at all," she said. "I don't feel I fit the Australian stereotype. I grew up in a very British household and I don't feel that attachment to Australia; it doesn't feel like home. I love Britain. I listen to the BBC radio every day. I feel connected to Britain. The weather there is just not suitable for triathlon."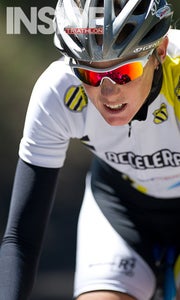 In 1982, Cave's parents, now retired in Cairns, took Leanda, her older sister and younger brother to Australia on what they said would be an adventure of a lifetime. They bought a four-wheel drive, shipped their trailer from the U.K. and toured the country for 10 years. Leanda's mother, Joyce, homeschooled the children through middle school, while Leanda's father, Gordon, built homes during the Australian housing boom.
"It gave them a broader education than they would have gotten if they were in one particular place," Gordon said. "They had a different picture of the world."
Moving from town to town, though, had its drawbacks.
"In high school, I realized I didn't have any social skills," Cave said. "I was never able to stay in one place long enough to make friends. I was always very lonely and when I went to the university I realized I didn't have any choice—I had to start talking to people."
Her family's peripatetic lifestyle also forced Cave to develop self-reliance, which only enhanced the confidence and determination she was developing through sports.
"I never had to rely on anybody, any friends to be there," she said. Enrolling at the Queensland University of Technology in Brisbane at 16, Cave was planning on becoming a physical education and geography teacher. And she was swimming on a club team, hoping to make it big in the 800- and 400-meter freestyle.
But after two years of college Cave changed her mind about swimming and teaching and moved to Canberra to train with Sutton, who at the time was the triathlon coach at the Australian Institute of Sport, training the country's short-course stars, many of whom would eventually become future Kona champions such as Greg Welch, Chris McCormack and Craig Alexander.
RELATED: Competitor Radio – Leanda Cave
"When I knew Leanda she was very young, inexperienced and not yet an adult," said Sutton, who remembers he tried to talk her into trying rowing for a while to develop her mental strength. "She was staying at times with the best athletes in the world, and that can be pretty intimidating."
But Cave stuck with triathlon and by the time she was 20, she had landed a sponsorship in Germany and in 2000 moved to Europe. While she missed the 2000 Sydney Olympics, she set her sights on Athens, in 2004. Coaches told her that to increase her chances of qualifying she had to quit her part-time job and train full-time.
"It was hard—I was so broke," Cave said. "I was sleeping on someone's floor and I had maxed out on two credit cards."
When she finally earned enough money from races to put a deposit down on an apartment, a thief stole the entire amount from her purse at a local market. But within a year her race performances earned her a regular monthly stipend from the British Triathlon Federation and by 2002 she was second in the ETU Triathlon European Championships, second in the Commonwealth Games and the ITU Short Course world champion. Spurred on by that success, she stepped up her training but ended up injured with lower back and hamstring problems for more than a year.
"I couldn't run," she said. "I couldn't cycle."
So Cave returned to Australia and got healthy in time to race the first Olympic qualifying race in Japan, but she ended up in the hospital right before the start with food poisoning. Her hard luck continued at the ITU World Championships in Madeira, Spain, later that year. "I was for some reason sick on the bike," Cave said, and Dibens, the first Brit, got the automatic qualifying spot on the team. Because of internal politics, Cave wasn't even picked as the alternate for the Olympic team.
"It was a very unfair selection," she said. "I was at a low point. It was very sad, how it all happened."
Fed up with the ITU circuit, Cave moved in 2007 to Mill Valley, Calif., with her future husband, and her streak of bad luck finally ended. She began entering and winning races with good prize purses such as Escape from Alcatraz and "before I knew it," she said, "I had money in the bank." With Abel as her coach and training partner, the couple also began visiting and training in different locales in the U.S. The two went to Flagstaff, Ariz., after Cave read that marathon world record holder Paula Radcliffe, one of her British role models, came to the U.S. specifically to prepare for her big races in Albuquerque, N.M., and Flagstaff. But the town that Abel and Cave liked most was Tucson. At 3,000 feet, it offers enough altitude to make a difference to her in races, it has great year-round riding, and like her hometown of Cairns, it can be swelteringly hot, a major plus for Cave.
"I'm always cold," Cave said. "Even when it's hot, I'm cold. It's weird. Torsten will be sweating and dripping. And I'll be dry."