A fast swimmer with an even stronger bike leg, Cave's Achilles heel has been her long-distance run. But she's been working diligently to improve it. She carries an electronic metronome on training runs to increase her stride rate. And Lindley has her doing drills, hill repeats and core exercises to improve her power, form and economy with the goal of maintaining her short-course speed for longer and longer distances.
"Siri has really developed Mirinda as a runner and that's something that I feel I can benefit from," Cave said.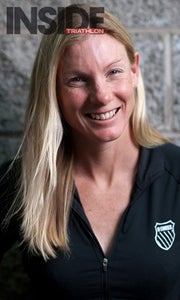 So far, the changes are working. Cave ran a PR of 1:23 last fall at the 70.3 world championship in Clearwater, Fla., and says coming off the bike in the Ironman and facing the marathon no longer seems as daunting as it did several years ago.
"It's getting longer in the marathon before I feel the pinch," she said. "Before, it was halfway. Now it's three-quarters of the way."
Cave's first marathon was at the 2007 Ironman World Championship, where she remembers her quads burning with every step going down the steep hill on Palani Road all the way to the finishing line, which she finally crossed in eighth place.
"I can handle pain," she said, "but I was in so much pain that I was bawling when I crossed the finish line."
In 2008, Cave came down with the flu in Kona and although she rode well enough to come off the bike in fifth place, she couldn't run. The following year, she was "in the form of my life," but was again derailed in the run, this time by GI problems caused, she thinks, by not having enough salt and too much fiber the night before.
"I was in fifth or sixth place coming out of the Energy Lab and then my gut went mental," she said. "It took me an hour and a half to go the last six miles."
Gut issues became a problem once more in the latter stages of last year's Kona, forcing her to again run into the lava fields along the Queen K to relieve herself. And it derailed her race at this February's Abu Dhabi International Triathlon, leading both Cave and Lindley to conclude that they need to revamp Cave's pre-race diet and nutrition this year (see sidebar on page 52).
Problems like that year after year might frustrate the average person, but Cave regards them matter-of-factly as obstacles she'll eventually overcome.
"I'm a big-time trial-and-error person" who learns from experience, especially bad ones, she said, so she's convinced it's just a matter of time before that problem can be resolved.
In fact, her sometimes pigheaded determination and confidence are what friends and family point to as the main reasons Cave has remained such a successful athlete for so long.
RELATED: The Making Of A World Champion
"She's one of the gutsiest, most determined athletes I've known," added Lindley, who remembers that the first time Cave came to train with her group in Los Angeles two years ago, she hit a rock while on a group ride and crashed on the side of the road.
Although her shorts were ripped and there was blood everywhere, Cave "just dusted herself off and got back on the bike," Lindley said. "That's Leanda's style. Nothing gets in the way."
Cave's mother, Joyce, recalls when her youngest daughter was 11 and learning how to swim as most children in Australia do in a surf lifesaving class: "Everyone could see the potential she had against the other athletes because of her sheer determination. Leanda was serious about training while others were mucking about."
That dogged determination was the key factor in Cave's come-from-behind win at the ITU Short Course World Championship in 2002 in Cancún, Mexico, against a field that included Lindley, who won the race the year before.
"I remember that day," said Lindley, who developed a new respect for Cave after her gutsy performance. "The moments when you see an athlete fighting to the very end tells you a lot about them."
Sutton, who was coaching Lindley at the time and watching the race, was similarly impressed.
"Leanda always handled the heat extremely well, so seeing her in the front pack in Mexico had me thinking podium," he said. "The fact that she won is of great credit to her."