The following story about dark horse Ironman World Championships contender Leanda Cave was printed in the September/October issue of Inside Triathlon magazine. She ended up finishing third in the October race.
By Kim McDonald

Photographs by Nils Nilsen
Chrissie Wellington, Mirinda Carfrae, Julie Dibens. As everyone knows by now, those three women are the odds-on favorites for the podium at the Ironman World Championship in October. But if the ride to Hawi on Oct. 8 is unusually windy and the run along the Queen K unbearably hot, expect another female competitor to break her way into the top three—Leanda Cave.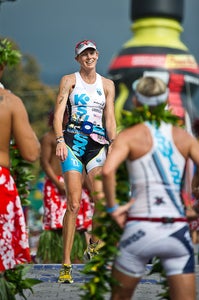 I first noticed Cave in 2007 at what was not only her first Ironman World Championship, but mine. Battling the winds on the long uphill to Hawi, I managed to redirect the pain in my legs by focusing on the pro men barreling downhill in the crosswinds to my left, wondering who the first woman would be to come into view. Michellie Jones, who had won the race the year before? Kate Major, the third-place finisher that year and the year before? As it turned out, it was Cave. Few remember that Cave led the women nearly all the way into T2 that day in what was her first ever Ironman only to be passed in the final miles of the bike by Wellington, who went on to win the first of her three Kona titles.
I watched Cave race again at last November's Ironman Arizona, where she led the women and most of the pro men out of the water. While she was passed by Wellington around mile 40 and eventually came in third, it was clear that she was the only female competitor who could bike with Wellington—and this was on a day when Wellington beat most of the pro men and set a women's world record for Ironman. Indeed, Cave outbiked Wellington at the Ironman 70.3 Kansas in June by two minutes.
Intrigued after Cave's performance in Arizona, I called her and her husband, German pro triathlete Torsten Abel, and asked if I could spend a long training weekend with them at their home in Tucson, Ariz. It didn't take long to notice the contrast between Cave's reserved, easygoing demeanor and her blood-and-guts style of racing. She's also tall. Most pro triathletes are short and compact like Carfrae or Major. But Cave looks more like a basketball center. In fact, if a single physical attribute could define Cave, it would be her legs. Long, slender and topped by a powerful pair of quads, they provide her with a lengthy running stride and an efficient set of levers on the bike that few competitors can match. But when she stuffs her 35-inch-inseam legs into running tights and uses them to propel her 5-foot-11-inch, 128-pound frame, it's evident the nickname that triathlon coach Brett Sutton gave her at the start of her career—Bird—still suits her.
"Brett called me Bird because he thought I looked like the 'Sesame Street' character Big Bird," Cave confessed in her typical self-deprecating way as we prepare for a long run on the cactus-lined trails near her home. "When I can find jeans that fit me, I make sure to buy two or three pairs."
PHOTOS: 2011 Ironman World Championship
For more than a decade, the affable Brit with a distinctive Aussie accent was an ITU short-course prodigy whose sponsors brought her at age 20 from Australia, where she had been raised, back to the U.K., where she was born. There she raced for Wales and Great Britain, taking second in the Commonwealth Games and winning the ITU Short Course World Championship in 2002. But after years of frustration dealing with leg injuries, the poverty that often results from racing on the ITU circuit and the politics of a fickle British Triathlon Federation, she switched gears in 2007 and struck out on her own, learning the intricacies of Ironman racing.
Now Cave is hitting her stride again, this time as a long-course athlete and top Kona contender. Her expansive home in an exclusive golf community in west Tucson, which she bought last year with her husband, who was her coach for many years, is testament to that. With her new coach, Siri Lindley, a former ITU world champion who guided Carfrae to last year's Kona win and coached Cave to her best long-course season ever last year, Cave will be taking her best shot at winning Ironman Hawaii this year. Based on her results before and after her disappointing (for her) 10th-place finish in Kona last year, that's very much in the realm of possibility.
Early last year, Cave was second to 2009 Ironman 70.3 and Xterra world champion Julie Dibens at the Abu Dhabi International Triathlon, won the Escape from Alcatraz Triathlon and Florida 70.3 and was the runner-up at the Vineman 70.3, the TriGrandPrix U.K. and the TriGrandPrix Basque Country. Then last October, only three weeks after Kona, she won the inaugural Ironman 70.3 Miami race by nearly nine minutes. Two weeks later she was second to Jodie Swallow at the Ironman World Championship 70.3, beating Dibens in the process. The following weekend, she raced a stellar women's field at Ironman Arizona that included Wellington and came in third.
Lindley points to those three races as a sign of Cave's untapped long-course potential.
"She's so mentally tough and determined," said her coach, who calls Cave "Superbird" in recognition of those superlative qualities. "There's so much more ahead. She's just coming into her stride. We've only really begun to see the potential that she has."
Sitting on her living room sofa in her sparsely furnished home (she and Abel decorate it when they're not training or traveling to races), Cave admits that her motivation to do those races in rapid succession so soon after Kona last year came from the simple fact that she needed to make sure she could continue to live in Tucson.
"I was trying to get my green card and I was under pressure to have a good race in Kona," she explained. "My lawyer said that you've got to get a top 10, a top five would be even better, to show exceptional ability. So I had a big low coming off Kona. Tenth place is good, but it's not great—it's not where I should finish, and I was really disappointed."
Now that she has proven herself once again this year, winning the Wildflower Long Course Triathlon on a tough, windy day with a time that was only eight seconds off Dibens' course record, followed by a win over Dibens at Rev3 Knoxville two weeks later, Cave is turning her attention to preparing for the rest of her long-course season. It will include another tough long-course trifecta—the Ironman World Championship 70.3 in Las Vegas, Kona and the ITU Long Course World Championship in Las Vegas (a race that Cave won when it was held in Lorient, France, in 2007). But her "A" race will remain Ironman Hawaii.
"My ultimate goal is Kona, to nail it," she added. "Kona is the hardest thing I've ever done in my life and it's the biggest challenge for me."