For an athlete new to the distance, winning three Ironman races—all in a matter of 8 weeks—is quite an impressive feat. Team TBB's Mary Beth Ellis seems to have found her calling this year, and is hoping for a Top 10 finish on Saturday. She considers herself more of a "diesel engine" after jumping up to 140.6. "2010 was so bad I didn't know what races I was going to do," Ellis says. "If you told me I wasn't going to do an Olympic race this year I would've thought you were joking." As for her first shot at Kona, she says, "As long as I hit the finish line and have no gas left in the tank, I'll be happy."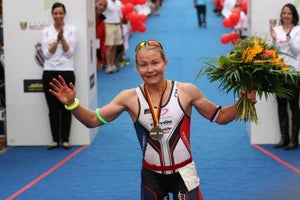 1. If she had to pick one sport to be a professional athlete in other than triathlon, it would be "running, hands down." She ran a 2:41 standalone marathon before switching to triathlon because of injury.
2. When she's trying to remember to run with a high cadence, she says her secret is a little embarrassing: she sings "Another One Bites the Dust" in her head.
3. She was big into team sports, playing soccer, field hockey, tennis and lacrosse growing up. Her more unconventional athletic background is in sailing, which she competed in as a kid.
4. One of her biggest (and most mentally difficult) workouts this year was a tough two days of riding her bike to the Alpe D'huez Triathlon, doing the race and riding home. Over 300k and through the Alps!
5. Just like many of us, she's had a couple mechanical mishaps. "One year at Escape From Alcatraz I cross-threaded my pedal. While I was climbing out of the saddle, my pedal just came completely out of the crank. But I got my most TV coverage ever because they showed the crash again and again…."
6. In college, she worked at a copy shop making copies and binding books together all day long.
7. In the off-season or when she's not at a Team TBB camp, she'll train with friends like Julie Dibens and Mirinda Carfrae in Boulder, Colo. But closer to the race, she mostly does stuff on her own. "At this point everyone has their individual training. It would be stupid to try to keep up with Dibens on the bike and Rinny on the run."