I am a firm believer that the first 400 yards of any Olympic or half-iron-distance swim makes or breaks your swim split.
Written by: Melanie McQuaid
That's because nearly everyone sprints the start and then settles into his or her relaxed race pace. The difference is that the first pack of swimmers settles into a much faster pace than the second and third packs. The trick is to settle into a pace faster than you can comfortably handle because the drafting advantage will allow you to stay there, taking advantage of the ability of the stronger swimmers. Obviously, your pack skills in open water will help you tuck yourself into a good draft, but nothing is as effective as starting fast.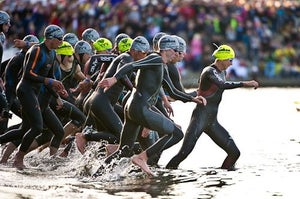 To get to the front pack you need to work on your start speed. Start speed is pure horsepower and aquatic velocity, not fitness and aerobic capacity. Many triathletes focus their energy on getting fitter so that the swim will take less energy and leave more for the bike and run. This is a good strategy to keep the swim comfortable, but it won't get you to the front pack—unless you're a former Olympic swimmer. Getting faster requires swimming faster with a lot of rest so that you can repeat fast swims.
The following swim suggestions are main set workouts. Do a 500–1000-yard warm-up with stroke drills to set your form for the workout and get your nervous system firing. Follow the set with an easy 500–1000 yards to help you recover. In addition to making good technical improvements, these sets will improve your speed come race day.
Pure Speed Set
Purpose: Improve turnover (arm cadence), general power and speed. Kicking is particularly important for speed in non-wetsuit swims.
• 8–12×25 kick: alternate medium +20 sec rest, fast +30 sec rest
• 200 easy swim
• 8–12×25 swim: alternate medium +20 sec rest, fast +30 sec rest