"Bachelorette" fans will recognize Ryan Sutter from the television show, numerous magazine covers and his high-profile wedding. But when outside the spotlight, Sutter is constantly training for triathlons. He's completed two Ironmans and just this weekend, finished the Chicago Triathlon.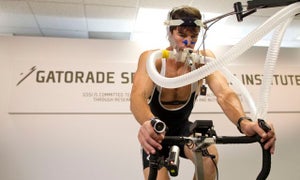 Working with the Gatorade Sports Science Institute, Sutter is profiled on a new web series titled "Inside Endurance," which provides viewers with a look inside the world of endurance sports. In the series, Sutter is taught proper nutrition and provided training tips.
Here are five recovery techniques he has learned from this experience:
1.     Your recovery is taking place during the race. I used to finish a race tired and worn out because I thought that's how you should feel. But it was because I was depleting myself of nutrition. If you use proper nutrition, you will finish your race strong.
2.     You need to get your energy restored right after the race. I have a hard time eating right after I finish, so I've been using recovery drinks. You need it to immediately rebuild your muscles.
3.     As soon as possible, you should get back into your normal eating routine.
4.     I recommend ice baths after really long races to reduce inflammation and muscle soreness.
5.     Use compression garments. I was skeptical with this, but I tried it after I finished Lake Placid and it worked.
Related content:
– Exclusive Podcast With Bachelorette Star And Endurance Sports Fanatic Ryan Sutter
– Ryan Sutter Takes On Grueling Events As Part Of 10.10.10 Challenge