After selling out a dinner in July, The Mauna Lani Bay Hotel & Bungalows on the Kohala Coast of Hawaii's Big Island will be hosting an exclusive vegan dinner with one of the most well-known women in triathlon, Hillary Biscay, on Wednesday, Oct. 5 at 6 p.m.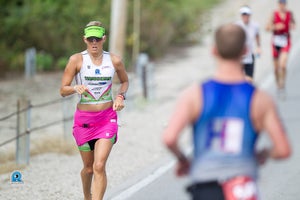 Biscay is a member of Team Mauna Lani, which consists of a group of pro triathletes who call the Mauna Lani their Hawaii home and training base while on the Big Island for training or racing. The all-star partnership also includes names like Mirinda Carfrae, Tim DeBoom, Belinda Granger, Samantha McGlone, Bree Wee and Luke Bell.
Biscay is one of the most prolific iron-distance racers in the world, and was the first to ever record six top-five Ironman finishes in one season. Last year, she completed eight Ironmans and finished as the runner-up in the Ultraman World Championship. She's been vocal about following a vegan diet since 2009.
The four-course vegan menu was created by Mauna Lani's award-winning team of chefs using the best and freshest in-season Hawaii Island produce. During the meal, Biscay will share highlights of her career, provide training and racing tips and talk about her vegan lifestyle.
The meal will be hosted in the hotel's CanoeHouse restaurant. Numbers are limited. Visit Maunalani.com to book your spot.
To read more about Hillary Biscay, click here.
To read more about the Mauna Lani hotel click here.