After racing the Ironman World Championship in Kailua-Kona, Hawaii, for the 16th time last year, two-time Ironman world champion Tim DeBoom announced it had been his final time to race in Kona. He spent 2011 racing more off-the-radar races, such as the Norseman Xtreme Triathlon in Norway, which he won, and the Xterra USA Championship in Ogden, Utah, last weekend, where he finished 16th. He'll also be racing the Xterra World Championship in Maui next month. Before heading over to the Big Island for pre-Kona festivities, though, he chatted with Triathlete.com about his 2011 racing season, his picks for Kona and what's next for him.
Triathlete.com: Are you going over to Kona for the race?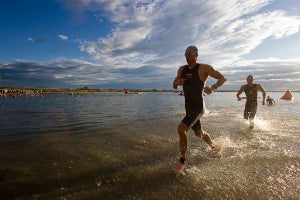 DeBoom: I'm actually not even going over for the race. I'm actually going over to do some stuff for some sponsors and then getting out of there. I know my limits. Watching the race might be a little much for me this year.
Triathlete.com: How did you like the Xterra race in Utah?
DeBoom: I love it. It's great. It's a little shock to my system after all these years of long stuff, so it's gonna be fun to train and focus a little more on the short, hard efforts than the long, drawn-out stuff. I'm looking forward to it.
Triathlete.com: Did you race other Xterras this year?
DeBoom: No it's my first one ever.
Triathlete.com: How was it racing with Lance [Armstrong] and Conrad [Stoltz]?
DeBoom: The Xterra guys are great. I had a blast. Lance is in a little world of his own. He took it pretty seriously, which I didn't know if he would or not. I thought maybe he'd take it a little bit mellower, but I don't think that's his personality. He had his entourage there kind of taking care of stuff. But Conrad and Josiah and the other guys—everybody was awesome. Mel McQuaid was awesome. So I had a lot of fun. I'm looking forward to doing a lot more of them.
Triathlete.com: What made you choose that race?
DeBoom: Well, it kind of fit in my schedule. I knew after Norseman, I was going to need a little bit of time to recover, but I still don't think it was enough. I was still feeling fatigued and didn't have any real speed in me. It just kind of fit into the schedule. And I was close enough that I could just head out there, do it, and it was at altitude, so I thought it would suit me. But it was tough, it was just a harder effort than I was quite ready for. Hopefully I'll do better in Maui.
Triathlete.com: How was Norseman?
DeBoom: The Norseman race was great, incredible, hard (laughing). Hard and long, but I had a blast. It was totally different than anything I'd done. Even training was different, and even the fact that you had like your own crew taking care of you during the race. That just made it a lot of fun—my brother and [photographer] Eric Wynn were with me, so it was a lot of fun.
Triathlete.com: How was your training different?
DeBoom: I was training long and hard in the middle of the summer, which is different instead of late summer, early fall for Ironman. We have a pretty hot summer here, so doing my key training in really the heat of the summer was taxing. But then I was just really focused on the course itself, which I still didn't get right. There were parts of the course they didn't really talk about online. And I got over there and saw it, and I was like, "Oh my, I would have trained a little differently for this." But the fact that it finishes going up that mountain on a trail—I would do my long runs and finish with something like that—a lot more climbing training.
Triathlete.com: How do you think it compares in difficulty to races like Kona?
DeBoom: It's kind of apples and oranges. Obviously I wasn't keyed up. It's not as fast a pace, just because my Ironman time is between 8 and 8.5 hours, and that was 11. So it's quite a bit different. I tell you, when I was hitting that 8-hour mark, I was sick to death of eating gels and drinking Gatorade and stuff. I was just like, "Just give me water." So it was different nutrition, like I probably should have had some real food out there.
Triathlete.com: How was it to have [your brother] Tony out there with you?
DeBoom: It was fun—we had a good time. It was more laughs than anything else. It was nice to have him to keep me company when the weather was bad and stuff.