Xterra reigning world champ and defending eight-time national champion Conrad Stoltz chats with Triathlete.com about the new Xterra USA Championship course, his prep to defend his title, and going up against Lance.
Triathlete: So, what's this we hear about Lance Armstrong reaching out to you for training advice?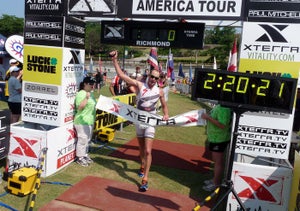 CS: Yeah, a couple of weeks ago, Lance asked me, 'Hey, Caveman, want to go on a training camp?' I asked, 'Is it a training camp for me or for you?' I didn't understand at first. But, yeah, it sounded like he wanted to do some Xterra training.
Triathlete: How has your training been going?
CS: It could be a little bit better. I just raced in Canada two weeks ago and I had a bit of a crash and didn't finish the race. But I'm all recovered now and building up for Worlds in Maui—that's the biggest goal of the season. Now that I know what I know (that Lance is racing), I wish I had a few more weeks to get ready for Nationals! It's a pretty tough course with a lot of climbing on the bike. I'm a pretty big guy, so climbing is not my strong point. I usually enjoy the more technical courses. Even though I had a great race last year and won pretty comfortably, it's a tough race for me. I think it will suit Lance and that's what I told him. It's a climber's course. It should make for some exciting racing.
Triathlete: Have you ever met Lance before?
CS: No, I've never met or spoke to him. But I think it'll be great for the sport and I'm really excited to race against him. I started following some of his tweets, and I noticed that he's been swimming pretty hard since November, which is more than I can say. He obviously enjoys the lifestyle, and I told him Xterra is really laid back and it sounds like he just wants to have fun at the moment. So I think it's a cool sport to just kind of get your feet wet and enjoy off-road racing. It's competitive racing but it's not all that intense.