Athletes will line up for the annual Rev3 Cedar Point Triathlon this weekend in Sandusky, Ohio. Distances include a half Rev and full Rev. This family-friendly event takes place in a 364-acre amusement park complete with 75 rides and 17 roller coasters and an outdoor waterpark, while surrounded by resorts and camping grounds.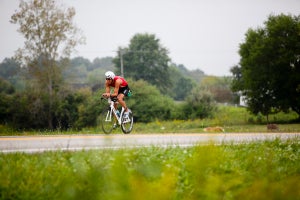 Athletes will begin the swim in Lake Erie, entering the water from inside the amusement park. They will then bike out of the park and through the rural country roads of Ohio on both flat and rolling terrain. Racers will return to Cedar Point to begin the run through downtown Sandusky. The race ends back in the park.
Because this race is taking place the same day as the Ironman World Championship 70.3, the professional field is limited. But the large prize purse of $100,000 is drawing a few big names, such as Chris McDonald, who is a staple at Rev3 events. McDonald placed fifth this year at Ironman Brazil and has numerous top-10 finishes at Rev3 races. Also in the men's field are David Thompson, last year's Rev3 overall series winner, and Graham O'Grady who recently placed first at the Rev3 Portland race.
On the women's side, Rebekah Keat is the one to beat. She'll face off against fellow Aussie Kate Major. This year Major placed second at Rev3's inaugural Costa Rica event, second at their Portland race and second at Ironman San Juan 70.3. She will be challenged by Hillary Biscay, who after finishing this race, will have completed 51 iron-distance races. Malaika Homo, another regular at Rev3 races, will also be making a run for a podium finish.
Weekend events include Friday Fun Day—Cedar Point will open its doors two hours early for athletes, families and volunteers to enjoy a selection of rides before the general public can enter.