France's Nico Lebrun and Canada's Melanie McQuaid took the titles at today's XTERRA USA Championship at the Ogden & Snowbasin Resort in Utah. Seven-time Tour de France winner Lance Armstrong finished fifth in his first triathlon in 22 years.
PHOTOS: XTERRA USA Championship
Men's Recap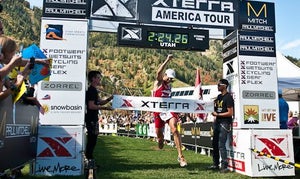 The men's race started with Australia's Ben Allen leading out of the two-lap 750m swim. He was followed by Brenden Rikita and Craig Evans. As the riders took on the brand new 28km bike course, South Africa's Dan Hugo made a move and established himself up front. He exited T2 with an approximately two-minute lead. Following Hugo were fellow South African Conrad Stoltz, France's Nico Lebrun and then Armstrong. The run is where things got interesting. Hugo looked strong early on, but was overtaken by a fast-running Lebrun at mile four. Hugo kept pace with the Frenchman but was never able to retake the lead. Lebrun took the win with a time of 2:24:26.
"When I came into T2 I saw Conrad's and Dan's bike and thought, 'Okay so I'm third. I can make it. Now I just have to pace myself and it will be ok. I caught him in mile 4. Dan didn't try to go with me; he knows I'm a good runner," Lebrun said after crossing the finish line.
Hugo finished shortly after in second with Josiah Middaugh rounding out the podium.
"I hadn't been that nervous for a very long time," explained Hugo.  "A very huge thanks to Armstrong for coming out. We've never had an XTERRA like this.—the energy, the expectation, the way it got people excited back home in South Africa. Today was a big opportunity and the stage felt a lot bigger."
Stoltz, the favorite to defend his title today, earned fourth. Armstrong turned in a solid run to finish fifth.

"I was nervous," said Armstrong. "I was just trying to stay focused on what I had to do today just because I was so freaked out. It had been so long. I didn't sleep last night."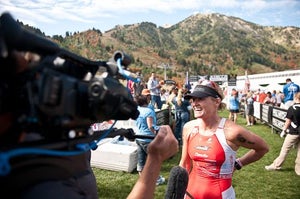 Women's Recap
For the women, Christine Jeffrey exited with several of the top men, giving herself a nice lead heading onto the bike. Canada's Melanie McQuaid rode hard from the beginning and quickly established herself as the one to beat. The effort on the singletrack paid off as McQuaid started the run with a sizeable lead over her competition. Behind the Canadian, Scot Lesley Paterson was hitting the trails hard. McQuaid's lead was just too much for anyone to overcome and she took the win. Paterson cruised in for second, with another Canadian, Danelle Kabush earning third. American Kelley Cullen earned third and local athlete Emma Garrard took fifth.
XTERRA USA Championship
Ogden & Snowbasin Resort, Utah – Sept. 24, 2011
1.5km swim, 28km bike, 10km run
Men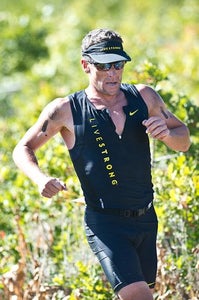 1. Nico Lebrun (FRA) 2:24:26
2. Dan Hugo (RSA) 2:24:50
3. Josiah Middaugh (USA) 2:25:37
4. Conrad Stoltz (RSA) 2:27:30
5. Lance Armstrong (USA) 2:29:25
Women
1. Melanie McQuaid (CAN) 2:43:00
2. Lesley Paterson (SCO) 2:45:59
3. Danelle Kabush (CAN) 2:47:43
4. Kelley Cullen (USA) 2:49:24
5. Emma Garrard (USA)  2:52:01
Click here for complete results.
Click here to view a race gallery.
PHOTOS: Lance Armstrong's Trek Superfly Mountain Bike
RELATED: Lance Armstrong Preps For XTERRA USA Championship