Orbea-sponsored triathlete Craig Alexander won the Ironman World Championship 70.3 on an unlabeled bike that appears to be a Cervelo P4.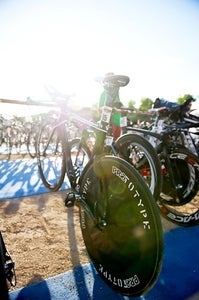 Updated Monday September 12th
Craig Alexander—an Orbea-sponsored athlete—won his second Ironman 70.3 world championship today, and he did it on an un-badged bike that appears to be a Cervelo P4. Alexander has raced on an Orbea for seven years, including earlier this summer. Today's Marines Ironman World Championship 70.3 is the first time he has raced on another bike.
Tony Karlins, Managing Director of Orbea USA, addressed Alexander's bike choice in an email sent hours after Alexander's victory.
We acknowledge the fact that Craig Alexander, an Orbea sponsored triathlete, competed in the 70.3 World Championships on an unbranded bicycle and not his Orbea Ordu. While we did not condone this breach of his endorsement contract, it is not a complete surprise to Orbea. Delays in the development of our next generation triathlon-specific bike pushed back the release date to late 2011 and we expect that this factored into Craig's decision. We will address this matter directly with Craig once he has had an opportunity to savor his victory today. In the meantime, we are continuing to work towards presenting our new tri bike to the market later this year.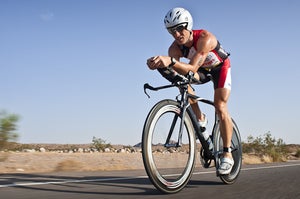 Triathlete asked Karklins if Orbea will pursue legal action against Alexander and Karklins responded in a second email, "We really do not have an answer for your question…I think that we will continue to talk with him and see what makes the most sense for all sides."
Triathlete asked Alexander's agent Franko Vatterott for comment relating to the bike Alexander raced at the 70.3 world championship and why Alexander elected to race the un-badged bike rather than the Orbea Ordu. Vatterott said, "Out of respect for the bike companies, I really can't talk about it." When asked what bike Alexander will race at the Ironman World Championship in Kona next month Vatterott replied, "I don't know."
Cervelo's representation says the brand was "pleasantly surprised to see Craig Alexander show up at the 70.3 World's on a P4. We have not sent him any bikes and we have no contract with him at this time."
Written by Aaron Hersh. Follow him @triathletetech