Australia's Greg Bennett overtook the entire field at the men's Hy-Vee Triathlon Elite Cup race, cruising into the finish line in 1:49:52 to take home the $151,500 winner's check.
Written by: Erin Beresini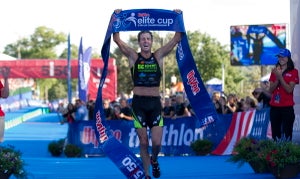 Denmark's Rasmus Henning came out to defend his two previous wins at this race against a stacked men's field of 30 athletes, including fellow Olympians Greg Bennett, Matt Reed, Hunter Kemper and Andy Potts…and the list goes on. Read on to learn how the prize money worked and how the men's race played out.
This year, the race was the U.S. Championship in the World Triathlon Corporation's new 5i50 series of Olympic distance, non-drafting races, so each of those pros was gunning for the massive first place prize purse of $151,500. To make things even more interesting, both the men's and women's races included 10 primes of $5150 for the first racer to complete each loop of the course (three swim primes, four bike, three run), elevating the total prize purse to $1,109,000.
Thirty of the top male pros jumped into the Des Moines River at 4 p.m. Central time to kick off the championship race. Australia's Joshua Amberger held off super swimmers Andy Potts and Cameron Dye to take home all three swim primes at $5150 a piece. Though he gunned it on the first lap of the four-lap bike course, several star bikers quickly overtook him, each aiming to win some bonus cash in each lap's prime. American Benjamin Collins dominated the bike, taking home all four primes while Greg Bennett worked his way to second place on the last two laps, getting in position to go for the overall win along with third man off of the bike, Matty Reed. Collins held onto his lead through the first lap of the run, but he couldn't hold off Bennett, who fought his way to the front to take the last two primes and the win in 1:49:42, 30 seconds ahead of Hunter Kemper and 48 seconds ahead of third place finisher, Great Britain's Stuart Hayes.
It was a big payday for the Bennetts; Greg's wife, Laura, took fifth place ($20,000) in the women's race.
Click here to read a recap of the women's race.
Hy-Vee Triathlon – Elite Cup
Des Moines, Iowa – Sept. 4, 2011
1.5K swim, 40K bike, 10K run
Men

1. Greg Bennett (AUS) 1:49:42
2. Hunter Kemper (USA) 1:50:12
3. Stuart Hayes (GBR) 1:50:30
4. Paul Matthews (AUS) 1:50:51
5. Rasmus Henning (DEN) 1:51:16