Three criteria define an intellectual disability: a childhood condition, an IQ below 75 points and limited "adaptive" skills, such as the ability to support oneself, maintain a job and effectively communicate with others. Intellectual disabilities affect an estimated 6.2 to 7.5 million people, as reported in the 1990 census. Worldwide, the number is closer to 200 million. Several hundred causes of intellectual disabilities are known. The primary three are Down Syndrome, Fetal Alcohol Syndrome and Fragile X.
An inherited condition, Fragile X is the most common cause of mental impairment and the most common cause of autism. The severity of the condition can vary. Nearly 90 percent of all cases are considered mild, while the remaining 10 percent involve severe challenges to basic functionality. Early intervention, support and education offer considerable hope to those who are more severely afflicted, enabling them the opportunity to pursue a satisfying life.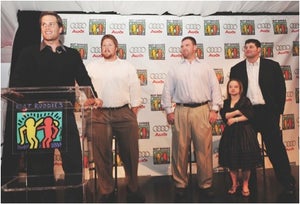 At Craigsville Beach after the bike ride, the Best Buddies—intellectually challenged men, women and kids—competed in a variety of bike criteriums, including races on tandem bikes teamed with celebrities, such as New England Patriot football players Matt Light, Stephen Neal, Dan Koppen and Nick Kaczur; track superstar Carl Lewis; and Miss USA. New England Patriot quarterback Tom Brady assumed the role of race announcer as the Buddies roared around the track, jarring any preconceptions a person might harbor about the limitations and lifestyle of the intellectually challenged
Across the road under a tent that could cover a small town, official sponsor Audi hosted the post-event party that included a clambake feast, open bars at either end of the venue, a gym-sized dance floor, and entertainment by a band composed of Buddies and 80's rock icons, the B-52s. Automaker Audi not only sponsored the party but also paid for everything else, channeling fund-raising dollars directly to the cause. "Because Audi pays for all of the expenses, one hundred percent of the contributions goes to the charity," Shriver said.
Seattle-resident Eric Matthes—his buddy is Carl Lewis, who has supported the program for 16 years—is a spokesman for Best Buddies. He gave two speeches over the weekend, each with deliberate phrases and emphatic body language. "I am a self-advocate," he said. "I choose to come here and celebrate friendship." He told his story, recollecting the moment in kindergarten when he was first called retarded and made aware of the false division society had relegated him. An emotional, electrical charge poured from his speech to the audience, many of whom were intellectually challenged or family members of intellectually challenged persons. "I am not my disability," Matthes declared, and turned to speak directly to the Buddies. "There is nothing stopping you from living your dreams."
Despite the large numbers, the award festivities had the distinct vibe of a family reunion, and Anthony Shriver, both a cheerleader and tireless stage director, avoided all forms of corporate-stylized speech as he moved the show along. "I truly believe that through the simple act of friendship, society possesses a powerful force that can dramatically enhance the lives of people with intellectual disabilities," Shriver said. "And volunteers equally experiences the gifts from such one-to-one friendships."