The Ultimate Century
How a charity bike ride and party featuring celebrities, a clambake and the B-52s help support an international charity called Best Buddies.
There are bike rides and then there are bike rides. A bike ride can provide a basic jolt of training effect, but it can, of course, do much more. It can offer a bucolic escape from the mental wear-and-tear of strip-mall scenery that inundates many daily lives. A bike ride can also pry open a few hours or more for a weekend social life, as one triathlete phrased it, "to spend some time with your buds."
There's also the kind of bike ride I did with 900 others last May—the Best Buddies, which is a bike ride that exists on a whole different level. Held near Boston, the Ninth Annual Audi Best Buddies Hyannis Port Challenge offered rider-fundraisers the choice between a 20-mile ride or a full century. The century riders woke early and rode from Boston, and the 20-milers started in Sandwich, each riding through winding country roads to an elaborate finish area at Craigsville beach near the famous Kennedy Compound.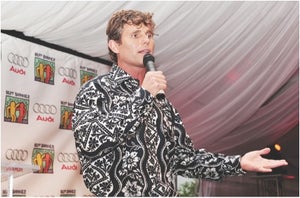 The event, exists due to the charity work of the Kennedys. Through his understanding of and passion for the effects and obstacles that a person faces when he or she is mentally impaired, Anthony Shriver created best Buddies in 1989. "My family has been a profound source of inspiration, particularly my mother, Eunice Kennedy Shriver, with her early commitment to persons with intellectual disabilities, and my late aunt, Rosemary Kennedy, who was intellectually disabled herself," Anthony Shriver said. "Rosemary helped me appreciate that everyone is capable of something exceptional, especially with the support and encouragement of friends and family. In Rosemary's case, she swam better than anyone else in my family."
Growing up, Shriver realized his aunt was a strong swimmer, an enlightening observation contrasting deeply with the difficulties he witnessed. Unable to perform many of the basic functions of normal life—driving a car, having a job or simply going to bed—Rosemary Shriver felt free of her intellectual restraints and actually excelled in the pool. Shriver's conception of Best Buddies, both a charity that supports the intellectually challenged and a network that enables friendships in a spirit similar to Big Brothers, was based on this experience.
"I started Best Buddies when I was a student at Georgetown, and amazingly it took on a life of its own," Shriver remarked. "We now have more than 1,400 chapters in 40 countries and hope to expand to 50 countries and impact 500,000 people worldwide by 2010. Through it all, the mission of Best Buddies has remained the same: to enhance the lives of people with intellectual disabilities through one-to-one friendships. We've simply expanded its scope as our organization has grown during the past 20 years. For example, Best Buddies now has a Jobs program, which provides opportunities for integrated employment to people with intellectual disabilities, helping them become further independent through vocation." Shriver added that one-on-one friendships supplement this independence.