With the Audi Best Buddies running and cycling fund-raiser to take place at Hearst Castle on September 10, we look back at Triathlete Magazine's report on one of the most star-powered and innovative charity/endurance events in the world.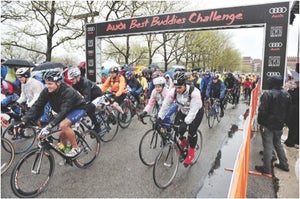 On the weekend of September 10, runners, cyclists and triathletes will participate in a Audi "Best Buddies" fund-raising event held near and around the Hearst Castle, in San Simeon, Calif. Best Buddies is a non-profit organization and volunteer movement that "creates opportunities for one-to-one friendships, integrated employment and leadership development for people with intellectual and developmental disabilities." This September fundraisers will be participating in either a coastal bike ride (15 miles, 30, 62 or 100 mile options) or a running race (3k or 5k) followed by a barbecue at the Hearst Ranch.
In 2008, T.J. Murphy, then the editor-in-chief of Triathlete Magazine, participated in the spring edition of the Audi Best Buddies bike ride, held in Hyannis Port, Mass., and filed the following look into one the most unique and successful charity-integrated endurance events in the world.