When Zipp launched the 404 and 808 Firecrest wheels, the industry knew it was only a matter of time before we saw a 303 version. And it didn't take too long, less than a year in fact.

Written by: Nick Legan, Velonews tech editor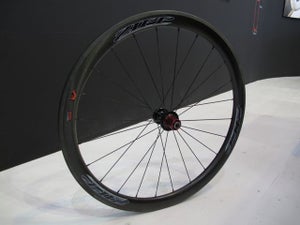 The new rim is 45 millimeters tall and 28.5mm wide (outside rim width). Zipp has abandoned the toroidal shape it had previously employed. In fact the 202 is the only carbon wheel left in the Zipp quiver that uses the shape. The 303 version of the Firecrest is very slightly different than the deeper rims. It isn't simply a smaller 404. And yet, according to Zipp, the 303 tests almost as fast as the 404 and the clincher version gives up nothing to the tubular version.
2012 rear hubs see some two small changes that increase rear wheel stiffness by 7 per cent. The non drive-side bearing now sits 7.5 millimeters wider (closer to the dropout) and the non drive-side hub flange is canted eight degrees to help with spoke alignment. Word is that builds go more smoothly and the whole wheel structure is improved.
The other new item across the Zipp wheel line is hub and spoke color options. All wheel models are now offered in both silver and black hubs and spokes. The silver is a bit darker than previous years. Zipp calls its pewter-like finish Falcon Grey. Zipp calls the darker option Beyond Black (actually the same finish as SRAM's Black Red group).
Clinchers weigh 1,498 grams and will run you $2,700. The tubular version saves weight and money at 1,198 grams and $2,300.