A $1,200 wetsuit? TYR went there. The Freak of Nature is constructed completely from Yamamoto's extremely flexible #40 neoprene built on the paneling and fit used in their current top-level suit, the Category 5. TYR says this change in neoprene allows Freak of Nature to stretch 40% further than Cat. 5. In addition to the materials change, TYR added patches of aerated neoprene, built up the catch panel and included other out-of-water value-add features. We will have to get one in the water to see if the suit's swimming performance justifies the price tag, which is nearly double most brand's top-level suits, but Chrissie Wellington is calling it, "far and away the most amazing wetsuit I have ever had the privilege to swim in."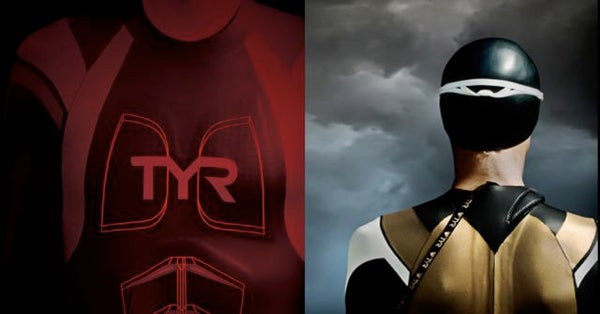 Fit
TYR is preserving the same fit and paneling used on the Hurricane Category 5 wetsuit. Triathlete magazine reviewed the suit in the July Swimsuit Issue. Here's what Tech Editor Aaron Hersh thought about the suit's fit that, at the time, was TYR's premier model.
The anatomical precision of the Category 5's torso is blatantly obvious once in the water. Of all the suits reviewed, the Cat. 5 was the only one able to keep water out by tightly wrapping the swimmer without creating pressure points. Since a swimmer wearing a wetsuit is positively buoyant, water that seeps between the suit and the swimmer reduces buoyancy. Many suits are designed to fit tightly for that specific reason, but the Category 5 was the best at blocking water without squeezing the swimmer…
The suit's flexible shoulders complement the feeling of freedom created by its well-fitting chest. The arm, shoulder and back panels are all exceptionally thin and have few seams. All three of these regions of the suit pull on each other during a stroke, and the combination of flexible materials and clever design frees the shoulders of restriction. There is no outward tug that some tight suits can create.
Although the Freak of Nature's paneling is identical to the Cat. 5, the fit will actually be slightly different due to the type of neoprene. The Cat. 5's torso is constructed using a mix of neoprenes with different degrees of flexibility. Since Freak of Nature uses only Yamamoto #40, an extremely flexible blend, its torso is likely to stretch more and fit slightly differently than the Cat. 5. Chrissie Wellington describes the fit as, "light and snug without being restrictive." TYR told a story about the subtle difference in fit from a product testing session with Andy Potts. His first reaction when wearing the suit was that it was too tight, and he asked for a bigger suit. TYR staff convinced Potts to try it, and the additional stretch in fact allowed the suit to conform to his body. Potts stuck with that original size.