Rose Aero Flyer 440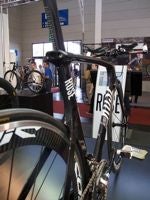 The understated white graphics on the nude carbon finish aren't flashy, but give the Aero Flyer a striking look. It's top tube has a lifted segment behind the stem that accepts shift housing, the down tube has a wheel cutout and the seat post wraps around the rear wheel.
Click here to view more photos of the Rose Aero Flyer 440.
Follow Triathlete.com tech editor Aaron Hersh @triathletetech for updates throughout the Eurobike trade show.