Bottecchia R 985 Cronothlon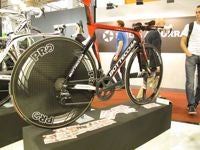 It's swooping seat tube swaps around the front wheel and the top tube juts above the steerer tube to reduce the gap behind the stem. The shift housing routes behind the stem and the front brake housing passes next to the fork and actuates the V-brake calipers that have quickly gained popularity as a hidden front brake. The rear brake is a TRP center-pull caliper. The seatpost clamp hardware is fairly broad and the headtube has a pointed cone extending over the tire.
Click here to view more photos of the Bottecchia R 985 Cronothlon.