After days and days of walking expo halls from Vegas to Germany, tech editor Aaron Hersh has selected his top-10 products new for 2012.
This wasn't a question submitted through email, but a ton of people have asked what was cool at Interbike and Eurobike. These are the 10 things I saw that I find most interesting, exciting or promising that will arrive in shops over the next few months.
Profile Design Sync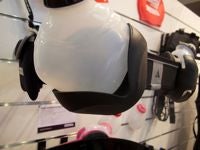 The innovative bottle-lock system allows the runner to reinsert the bottle onto the belt without holding the holster open or carefully aiming the bottle into the opening. And it seems to hold the bottle securely, but we will have to test it to be sure.