Frame Shape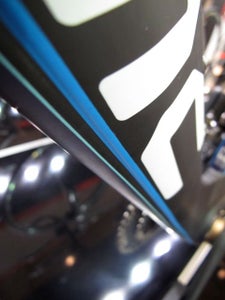 The TM01's tubes have a unique truncated airfoil profile with an indentation just in front of the widest portion of the tubes. BMC says these indentations act as a tripwire to allow air to stay attached to the tubes longer before separating completely and generating more aero drag. This tripwire concept is gaining popularity in the cycling industry. Zipp's dimples are famous, Ridley has textured strips on the headtube and downtube of their top-level tri and aero-road bikes and Reynolds has a thin raised bar on the side of their aero rims, all intended to improve airflow. This concept is based on decades-old aerodynamic research that demonstrated airflow sticks to a sphere longer and generates less drag if the sphere has a thin wire wrapping around it perpendicular to the direction of airflow. The TM01 uses this tripwire tube shape concept on all the tubes that are oriented near to vertical—the fork, headtube, downtube, seatpost, seatube and seat stays.
The tubes all conform to the UCI's 3:1 ratio, meaning the tubes are no more than three-times deeper than they are wide. The bike has a very narrow frontal profile and the fork extension in front of the frame blends smoothly with the headtube. BMC added clever rubber stoppers on the headtube to prevent the fork extension piece from damaging the frame finish when it's turned all the way to the side. Seatstays join the seat tube slightly more than halfway up the tube. There is a small extension behind the fork crown to close the gap between the fork and the downtube. The downtube itself has a front wheel cutout as well. The Di2 battery is concealed in a cavity at the base of the rear wheel cutout, and the same frame can be built either with Di2 or with a cabled drivetrain routed with full-length housing from the shifters to derailleurs. The rear dropouts are horizontal and have a barrel adjuster to quickly change rear wheel position. The frame has a BB30 bottom bracket. The seatpost clamp bolt is totally concealed in the top tube and the opening is plugged with a rubber piece.
Get One
January of 2012, the TM01 and TM02 are expected to go on sale in the United States. The TM01 will be available as a frameset, with a Shimano Ultegra build, SRAM Red build, or with Shimano Dura-Ace Di2 and Zipp 808s.
The TM02 will be sold with Shimano 105, Shimano Ultegra or as a framset. The TM01 will be in the upper price range and the TM02 will be substantially more affordable.
Aaron Hersh is the senior tech editor of Triathlete.com. Follow him on Twitter @Triathletetech.