Aerobar Attachment System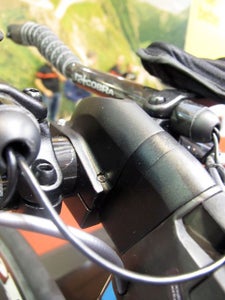 The aerobar attachment system uses three modular pieces to create the stem. The first piece is an angled wedge that bolts straight to the extension of the fork in front of the headtube. The wedge can be positioned downward or upward. The second piece is a rectangular extender that comes in two widths, one wide and one narrow. One, none or both pieces can be installed to lengthen or lift the aerobar position. The final component is the 31.8mm aerobar clamp. The clamp is offset to one side of the clamp and can be flipped to lift or lower the aerobar position. The clamp segment itself extends to either side beyond the stem system. Combined with the adjustable seatpost clamp, BMC calls this adjustable aerobar system P2P, or Position to Perform, concept. The result is a wide range of adjustment that should help the TM01 fit many different riders. We do not yet have specific dimensions that can be translated into standard stem and spacer dimensions, but Andrew James says the reach value can be set extremely short, an undoubtedly great option for many people. These pieces blend together to create a smoothly integrated stem system that leads into a cap above the toptube that guides the cables and housing (or Di2 wires) into the frame. The standard 31.8mm-wide aerobar clamp allows the TM01 to use any aftermarket aerobar to adjust the fit. This range of fit adjustability proves the BMC TM01 is truly dedicated to triathlon and it should allow many riders to fit the TM01.
Brakes
The front stopper is a V-brake that bolts directly onto bosses mounted to the fork, and is shielded by covers that bolt onto the fork over the arms. The pads can be set up to fit the super-wide aero wheels by moving spacer washers to the outside of the brake arm, and these washers can be moved inside the arms to space the brake shoes to fit wheels with a traditional 19mm-wide brake track. The cover pieces have slots over the bolts mounting the brake shoes to the arms that allow the pads to be adjusted in all directions like a standard road caliper while mounted to the bike. The housing passes through the headtube and into the brake cavity. The upper shield piece has to be removed (which requires a wrench) to adjust cable tension. There is no barrel adjuster for on-the-fly adjustments. The brake arms are held in front of the fork legs by bosses when open. This prevents the brake from poking out to the side of the blades.
The rear stopper is also a V-brake and is tucked into the chainstays behind the bottom bracket. The rear brake cable and housing pass into the top tube and through the frame before joining the brake.