Anchorage, Alaska
Categorized as: Off the radar
Population: 286,867
Median Home Price: $242,550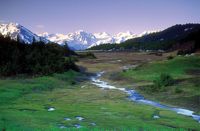 The Scene: Alaska may not scream "Tri Town USA," but plenty of triathletes run and bike the Tony Knowles Coastal Trail (which traces the coast around downtown Anchorage) and hit up local running shop Skinny Raven. Last year, 1,500 women participated in the city's Gold Nugget Triathlon. The Xterra Hammerman is another popular race.
The Selling Points: Spring through fall, Anchorage's climate is similar to San Francisco's, with balmy 65-degree weather in the summer. And the summer solstice gives you extra daylight hours to take advantage of Anchorage's 10,000 acres of parks and 400 miles of trails. Bonus: Anchorage is expected to gain 1,100 jobs this year.
The Snags: Again, it's Alaska, so it can be isolating—and unless you love long travel days, it's not an ideal place to live if your extended family is in, say, Cincinnati.

Local Flavor: Each June on the summer solstice, Anchorage hosts the Mayor's Midnight Sun Marathon (Mayorsmarathon.com), giving runners plenty of daylight—24 hours, to be exact—to admire the scenic course.