Boise, Idaho
Categorized as: Off the radar
Population: 205,671
Median Home Price: $162,804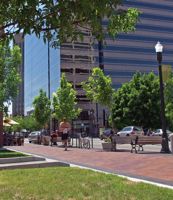 The Scene: Mild weather? Check. Ample options for outdoor activity? Check. Cool coffeehouses and shops? Check. More and more triathletes are turning up to test Boise's vast terrain—and deciding to stick around.
The Selling Points: It's not called the "City of Trees" for nothing: Boise boasts nearly 2,000 acres of parks. Cyclists ride the 16-mile Bogus Basin hill climb (the same route pro cyclist Kristin Armstrong trained on before snagging gold in Beijing), and you can log an epic run along some of the 35 miles of trails dissecting the Rocky Foothills. Another Boise bonus: The city sees very little rain or snow—a surprising average of 12 inches per year.
The Snags: While you may be able to buy a home here for a steal, making a return on your investment is another story: At 15.2 percent, Idaho leads the nation in home value depreciation.
Local Flavor: Runners flock to the Boise River Greenbelt (Cityofboise.org), which follows the river through the heart of the city. With markers at every half-mile, this shady stretch of pavement is ideal for fartlek and speed work.