Chicago, Illinois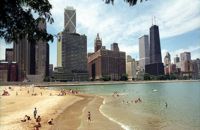 Categorized as: Best metropolitan areas
Population: 2,826,430
Median Home Price: $220,470
Average Monthly Rent (2BR Apartment): $1,420–$1,840
The Scene: Home to the nation's largest triathlon (the Life Time Chicago Triathlon welcomes more than 8,000 registrants each year), the sport is as pervasive in the Windy City as deep-dish pizza. Among the thriving clubs throughout the city, MultiSport Madness—based in the suburb of Geneva—continually churns out the country's top junior talent.
The Selling Points: With Lake Michigan, there's access to open water practically wherever you roam in Chicago. Favorite spots among triathletes include the Ohio Street and North Avenue beaches. Plus, the 18-mile paved path next to the lake offers water and city views without a stoplight to slow you down.
The Snags: Two words: cold weather. The chill of the winter can carry over into late spring, making it especially challenging to get in quality outdoor workouts. Plus, as with most cities, cyclists and runners tend to do battle with meandering tourists on the public pathways.
Local Flavor: The Chicago Triathlon (Chicagotriathlon.com) tracks up and down Lake Michigan along Lake Shore Drive and past Soldier Field while offering spectacular views of the Midwest's biggest city for you and thousands of your fellow racers.