San Diego, California
Categorized as: Still the best
Population: 1,307,402
Median Home Price: $385,000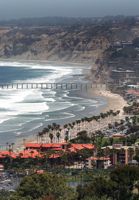 The Scene: Triathlon has been a staple here since Nixon was in the White House, and the community continues to thrive. San Diego Triathlon Club recently topped 2,800 members and new multisport-focused brands, like Soas Racing, and events, like TriRock San Diego (Trirockseries.com), crop up all the time.
The Selling Points: The Pacific Ocean. Coast Highway. The (nearly) eternal sunshine. Need we say more?
The Snags: There are plenty of beaches, sun and surf, but San Diego lacks the more rugged terrain. Off-road racers might prefer Northern California's more mountainous regions.
Local Flavor: Situated just beneath one of the ritziest neighborhoods in San Diego, La Jolla Cove is one of many beautiful access points to the ocean along the Southern California coast. The things that make the Cove San Diego's best open-water swimming location are the large crowds of swimmers and permanent distance-marking buoys.