Tucson, Arizona
Categorized as: Still the best
Population: 537,410
Median Home Price: $136,920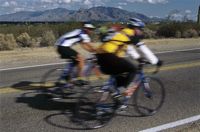 The Scene: Thanks to its amiable climate, varied geography and high altitude (2,000 feet above sea level), Tucson is a triathlete's playground. The town is home to a cadre of pros, such as Samantha McGlone, Hillary Biscay, Chris McDonald and T.J. Tollakson, and many clubs capitalize on Tucson's temps and long stretches of roads during winter training camps.

The Selling Points: 500 miles of in-town bikeways, 27 public pools, and trails upon trails in Tucson Mountain District's washes and foothills. And then there are the climbs: Claiming victory over the 6,000-foot, 19-mile ascent of Mount Lemmon is a badge of honor on par with an M-dot tattoo.
The Snags: Tucson is a sprawl city, so the drive from one side of town to another can cost you an hour. There's also the intense heat, which makes it a less-than-ideal place to train at the height of summer.
Local Flavor: The Catalina highway zigzags 25 miles up Mount Lemmon from the city of Tucson to a high altitude pine forest that gets enough snow during the winter to support the Mount Lemmon Ski Valley ski hill. It stays cool enough during the summer to offer a little respite from Tucson's notorious heat as well as a great workout with beautiful views.