Boulder, Colorado
Categorized as: Still the best
Population: 98,062
Median Home Price: $370,500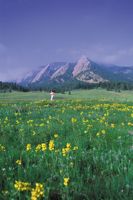 The Scene: This is where you go to rub elbows—and share pool time—with some of the fastest athletes in the sport (Matty Reed, Julie Dibens, and Greg and Laura Bennett all call Boulder home). Even local businesses, such as
Bulumu Granola and D3 Energy Lab, are owned by triathletes.
The Selling Points: With the Rocky Mountains casting their glorious shadow over the Boulder Valley, the town is teeming with training grounds, from its biker-friendly canyon roads to easy access running trails. If you're in the mood to shake things up, recently opened Valmont Bike Park is already considered one of the top off-road cycling spots in the country.
The Snags: While Boulder enjoys mild weather throughout most of the year, be prepared to deal with snow and ice in the winter. But c'mon—it's Colorado.
Local Flavor: The hometown to many of the world's best triathletes during the summer also houses one of the nation's best sports medicine facilities, the Boulder Center for Sports Medicine (Bch.org/sportsmedicine). Not only does the BCSM have experienced doctors specializing in endurance sports, they also offer services such as lactate testing, running gait analysis and coaching.