Burlington, Vermont
Categorized as: Off the radar
Population: 42,417
Median Home Price: $286,000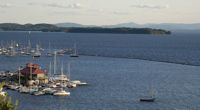 The Scene: An area much more well-known for its winter sports, Burlington is emerging as a triathlon-friendly locale. The host of the 2011 and 2012 USA Triathlon National Championships, this town will soon be very grateful for the sport, which is expected to pour more than $2 million into Burlington's economy.
The Selling Points: Sure, there's snow on the ground from October to April, but once the thaw hits, you can grind out your miles in Red Rocks Park or explore some of the 1,300 miles of cycling routes on the Lake Champlain Bikeways (or cross-country ski your heart out all winter long). Locavores will love the organic produce from Burlington's Farmers' Market, open May through September.
The Snags: Burlington's full of college kids, ski bums, artists and musicians. (The band Phish got its start here in 1983.) Very cool for some, but if you prefer the straight and narrow, Burlington's free-spirited vibe may not be the perfect fit.
Local Flavor: Winter doesn't mean training indoors with the Catamount cross-country trail nearby. At 300 miles and spanning the length of Vermont, it's the longest cross-country ski trail in the nation.