Portland, Oregon
Categorized as: Off the radar
Population: 583,776
Median Home Price: $230,000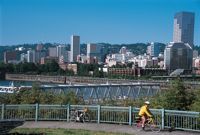 The Scene: Cyclists and triathletes are everywhere in Portland: gathered together at coffee shops (Stumptown Coffee Roasters is a favorite); tossing back a couple of cold ones at one of the 50-something microbreweries in town; hanging out at The Athlete's Lounge—part retail shop, part training center and the epicenter for all things tri in Portland. Plus, the city landed an elite race with the inaugural Rev3 taking place here in July.

The Selling Points: Bike five minutes from Portland and you'll reach rural roads with very little traffic. Forest Park—the largest wooded city park in the United States—is here, featuring the 30-mile Wildwood Trail. And all of that rain you hear about? It mostly falls between November and March, with the rest of the year soaked with sunshine, pleasant temps and low humidity.
The Snags: With no local lakes and the chilly temps of Portland's rivers (the Willamette River averages around 69 degrees in late August), open water spots are hard to come by. Locals lament traveling up to an hour to swim in more welcoming waters.

Local Flavor: With 324 miles of bikeways, bike racks at every corner, café and bar, and a fixie-loving hipster population, Portland is a two-wheeled commuter's paradise.