Sacramento, California
Categorized as: Off the radar
Population: 1,400,949
Median Home Price: $192,950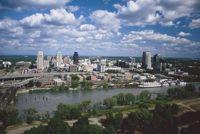 The Scene: Sacramento may not be as sexy as say, San Diego, but California's capital has its own appeal. The city's Golden State Triathlon, held each October, is California's only crit-style sprint tri, with a draft-legal bike course. Legendary Ironman champ Dave Scott, a native of nearby Davis, teaches a clinic at the city's Swimstitute each year.
The Selling Points: Despite its mostly urban environs, Sacramento is rife with a variety of places to get your workout on. There are ample parks, multiple lakes, the American and Sacramento rivers for open-water swims and the 32-mile Jedediah Smith Memorial Bicycle Trail. Known as one of the sunniest cities in the country, Sactown averages 188 clear days per year.
The Snags: For all of that sunshine, there's still a dark cloud hanging over Sacramento: The city has struggled with declining home prices, rising unemployment and high taxes (much like the rest of California).
Local Flavor: Throughout the summer, coaching group Total Intensity Sports (Totalintensitysports.com) and bike shop Kinetic Cycles host a weekly 10-mile time trial series along the Sacramento River. Cash prizes and coveted gear like Zipp wheels and TT frames are up for grabs for top point-getters.