Provo-Orem, Utah
Categorized as: Off the radar
Population: 122,484
Median Home Price: $140,380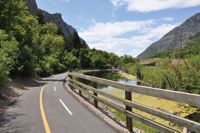 The Scene: Since the launch of the Utah Half five years ago, triathlon participation has been booming. Athletic college kids from Brigham Young and Utah Valley University (both of which have competitive tri clubs) have further bolstered the community.
The Selling Points: Nestled alongside the Provo River between Utah Lake and the Wasatch Mountain Range, there are plenty of hills to run and ride up and lakes to swim in. BYU's facilities are top-notch, and for a change of pace, the mountain biking hub of Moab is only a three-hour drive away. Plus, with both BYU and Utah Valley University nearby, the job market is strong, especially in the tech space.
The Snags: Many of the roads weren't built with cyclists in mind. Some major stretches of asphalt in and around Provo and Orem have zero shoulders, so riders have to take extra caution.
Local Flavor: Provo tri shop T3 Triathlon (T3triathlon.com) hosts a trio of local races, including the Turkey Triathlon, featuring a "splash" distance in reverse order, with the 350-meter swim last.