Mammoth Lakes, California
Categorized as: Off the radar
Population: 7,869
Median Home Price: $348,880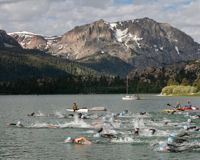 The Scene: Like Flagstaff, Ariz., Mammoth Lakes is a training destination for many of the country's elite distance runners such as Ryan Hall. But recently, the resort town has emerged as a hotspot for triathletes thanks to its high elevation and rugged terrain.

The Selling Points: Picture this: snow-capped mountain peaks, peaceful forests and bald eagles soaring above you while you hammer out a tempo run or pedal the lung-burning climb to the Minaret Vista. The Whitmore Pool is fed by natural hot springs and offers a 360-degree view of the Eastern Sierra. And the June Lake Triathlon each July is a must-do.
The Snags: Mammoth Lakes' 12.2 percent unemployment rate is above the national average, and in recent years jobs have decreased by 6 percent.

Local Flavor: Mammoth lakes and the surrounding areas are filled with spectacular trails and roads. Runmammoth.com provides maps and directions to routes.