Fort Collins, Colorado
Categorized as: Off the radar
Population: 143,986
Median Home Price: $264,290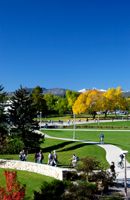 The Scene: If Boulder is the sparkling gem for triathletes in Colorado, Fort Collins is a diamond in the rough. Home to Colorado State University, the cycling scene has been hot here for years, but the tri community is finally catching up.

The Selling Points: With 29 miles of bike trails and the annual Fort Collins Cycling Festival showcasing competitive bike racing, it's hard to find an excuse not to ride here—or a group to ride with. Areas like the Horsetooth Reservoir and Lory State Park offer shaded trails, while you can ride along interstate I-25 for miles in a bike lane. And the dozens of local microbreweries in town (earning Fort Collins the nickname "The Napa Valley of Beer") give you even more of a reason to work up a thirst.
The Snags: Faced with budget cuts, last year Fort Collins' Poudre School District laid off 139 full-time employees.
Local Flavor: Check out the much-loved New Belgium Brewery (Newbelgium.com), makers of Fat Tire Amber Ale. But reserve a tour early—it's so popular that spots fill up a month in advance.