No focus groups. No formal polls. Just a bunch of tri-obsessed editors debating the most desirable cities and towns for triathletes. Whether it's agreeable weather, stunning scenery, unbeatable training spots, lively culture or low cost of living, these cities have it.
Written by: Sarah Wassner Flynn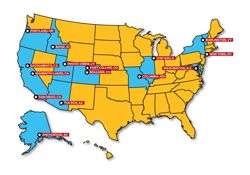 Our favorite places to live were put under one of the three following categories.
Still the best: It might be cliché to include these cities in a list of the top tri towns, but with mountains, the ocean and year-round sun, they're still the best. Can you blame us?
Best metropolitan areas: You won't get wide-open spaces. And you may have to stash your bike in your kitchen. But what these cities lack in personal space, they make up for in a wealth of resources for triathletes.
Off the radar: They've got almost everything—except the recognition. These towns may not come to the front of most triathletes' minds, but they will soon.