Paul Matthews (AUS)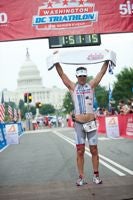 How he qualified: 1,550 points in the 5150 series
8th at St. Anthony's
1st at Washington DC
2nd at Boulder
Paul Matthews is dropping down from his preferred 70.3 distance to try his hand at another Olympic-distance race. He used his incredible cycling skills to blow past competitors at the DC and Boulder 5150 events. His cycling skills have translated well from the half marathon to the 10K, but his running prowess is more suited to go 13.1 miles. Expect his bike split to be one the race's best, but there should be at least a few runners who pick him up along the 10K.