Kris Gemmell (NZL)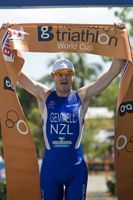 How he qualified: 1,135 points in the 5150 series
7th at St. Anthony's
2nd at New Orleans
1st at Memphis in May
Gemmell was able to secure his Hy-Vee spot in one four-week trip to the United States. He squeezed three races into 22 days to make it happen. He has had great success at Hy-Vee finishing fourth and second in the two years prior (when it was a draft-legal race). He will surely be in the front pack on the swim. The big question is how he transfers from ITU riding to time trialing, and how his legs move after a 40K solo ride. At St. Anthony's the 40K got the best of him and his normally fleet legs were zapped of energy. He got the hang of it at New Orleans and Memphis in May, but did not face as stiff of competition.