Cameron Dye (USA)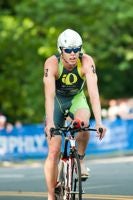 How he qualified: 1,550 points in the 5150 series
4th at Miami International
3rd at St. Anthony's
2nd at Memphis in May
Dye is a big fan favorite for his aptitude on the bike. Dye is almost a guarantee to have the top bike split on the day. He has out-split all of his fellow competitors by more than a minute in Olympic-distance races this year and may do the same on Sunday. Dye's run has been fairly inconsistent, largely due to injury. His chances of success on Sunday will depend on how well he can take it to the 10K.