Ben Collins (USA)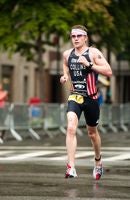 How he qualified: 1,250 points in the 5150 series
3rd at Miami International
5th at St. Anthony's
1st at New Orleans
Collins has done amazing things to transform himself from a collegiate swimmer to an elite triathlete. In his podium finishes Collins has used the swim and bike to distance himself from the field and then has hung on for 10K of running. With all of the best triathletes in the world assembled in one race, it's hard to see Collins going into T2 with any significant lead and from there the pure runners will have their chance to chase him down.