Jarrod Shoemaker (USA)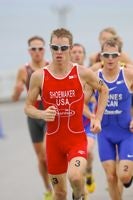 How he qualified: Invite
He was a 2008 Olympian and is looking to make his way back onto the Olympic team for 2012. Shoemaker has had some very nice international finishes in the draft-legal style of racing thanks to his strength on the run. Shoemaker's weakness is on the bicycle and that will be magnified in the non-draft style.