Matt Reed (USA)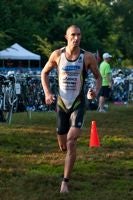 How he qualified: 1,425 points
7th at Miami International
2nd at St. Anthony's
6th at Boulder
Reed pulled off an amazing double, winning the Life Time Minneapolis Triathlon and finishing sixth in the Boulder 5150 all in the same weekend. Reed has been dominating at some of his races, but has flopped at others. He was second at St. Anthony's and won in Minneapolis, two of the most competitive races of the season. Some of his lackluster performances include a seventh-place finish at Miami International and a sixth-place finish at Capital of Texas. His swim/bike/run combo has the potential to put him on top of the podium, but Reed is strangely susceptible to bad days.