Andy Potts (USA)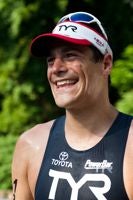 How he qualified: Invite
6th at St. Anthony's
Potts has had a well-balanced season racing in Olympic-distance and 70.3 races. He's now turning his focus on to preparing for next month's Ironman World Championship and may be racing on fatigued legs. Potts, a former Olympic trials swimmer, should come out of the water with a healthy lead from the main pack and will hope to hold that lead to the finish line.