The men's pro race at the 2011 Hy-Vee triathlon, set to take place Sunday, Sept, 4, is wide open.
Written by: Sal Farruggia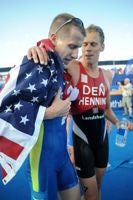 Click here to read a women's race preview.
When the pre-race favorites have met earlier in the year it seems a different man has come out on top every time. Matt Reed, Andy Potts, Filip Ospaly, Cam Dye, Paul Matthews, Kris Gemmell, Ben Collins, Stuart Hayes and Tim O'Donnell each have a win in a non-drafting Olympic-distance race this year. It has been a long season in the 5150 series since the Miami International Triathlon in March and the winner of Hy-Vee will have to have planned his season peak just right. Several strong swim/bikers will be on a mad dash to T2 trying to bank time against the fast runners, while racing among themselves for primes in the race-within-a-race. The best runners will have to pursue the field with heart pounding vigor if they want to take home the $151,500 check at the sport's richest race.